Tonheflow motorized valve manufacturer
Tonhe mainly produces motorized shut off ball valve from 1/4" to 2",
Some valves approved NSF61-G, CE, ROHS and other international certification.
DN25 1 inch CR501 NSF61-G motorized ball valve with manual override
Min.Order Quantity: 1 Piece/Pieces
Supply Ability: 5000 Piece/Pieces per Month
Port: ningbo,Shanghai
Payment : T/T, Paypal
Service On Line

Tonhe is a china manufacturer, we focus on mini motorized valve(1/4" - 2"), which are CE, RoHS, IP67 approved, and SS valve NSF61 approved. Our company also SGS ISO9001 approved.

Technical Parameters:
| | |
| --- | --- |
| Valve size | NPT 1" NSF61-G approved |
| Maximum working pressure | 1.0 MPa |
| Circulation medium | Fluid, air |
| Rated voltage | DC5v, DC12v, DC24v |
| Wiring control methods | CR501 |
| Working current | ≤500MA |
| Open/close time | ≤5S |
| Life time | 100000 times |
| Valve Body material | Stainless Steel |
| Actuator material | Engineering Plastics |
| Sealing material | EPDM & PTFE |
| Actuator rotation | 90° |
| Max. torque force | 2 Nm/4Nm(Optional) |
| Cable Length | 0.5m,1.5m(Optional) |
| Environment temperature | -15℃~50℃ |
| Liquid temperature | 2℃~90℃ |
| Manual override | No |
| Indicator | Yes |
| Protection class | IP67 |
How to use manual override
In case of motorized valve electric supply failure. It is possible to operate actuator manually
1.Power must in off position when start the manual override.
2.Gently put up the knob about 3mm, then revolve the knob around left and right to control the vavle open or close.
3.When the red needle in the indicator pointing to S, means the valve is close, when pointing to O, means the valve is open.
4.After finish the manual override operation, must press down the knob, so that for the normal electric operation.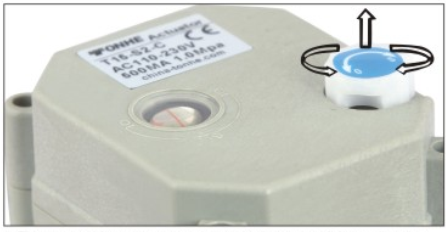 5.The manual function can only use in the power failure situation.
6.Rotating the hand wheel left and right with small angle, and pulling up the hand wheel about 3mm until the valve arriving.
7.The red line on the window pointer to indicte S, the valve is closed, indicating O, the valve is open.
8.Pressing down the hand wheel when no need of the manual operation, so the normal electric power can work.
Assemble drawing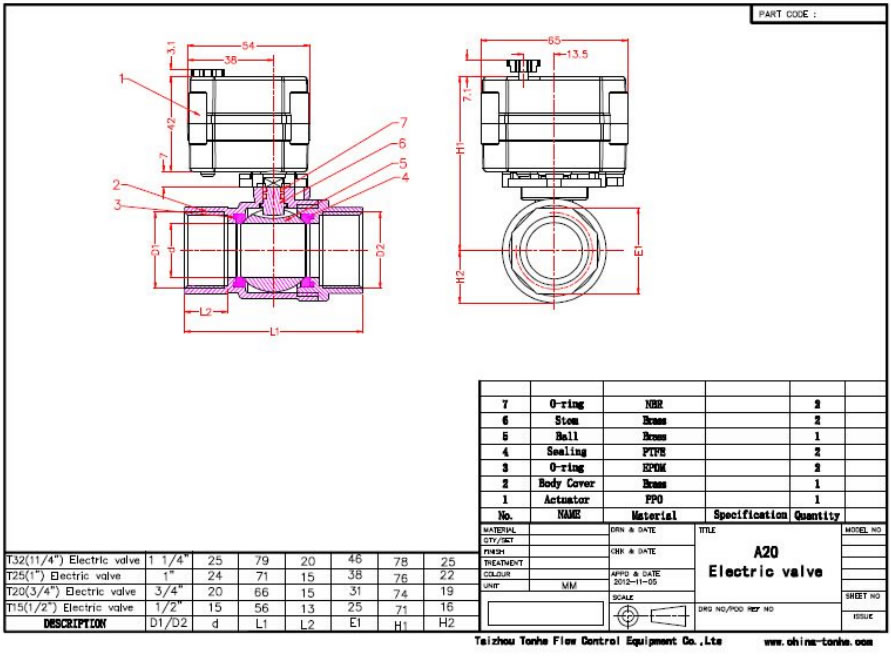 Wiring diagram
CR5 01 Wiring diagram ( with feedback signal)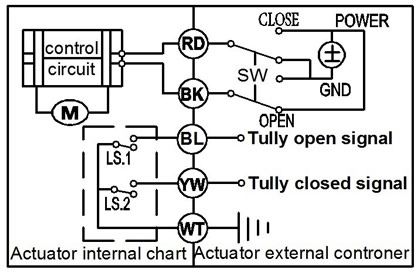 1. RD connect with positive, the BK connect with negative,the valve closed, the actuator automatically power off after in place .
2 BK connect with positive, the RD connect with negative,the valve open, the actuator automatically power off after in place .
3 GR & WT are connect when the valve open fully, YW & WT are connect when the valve closed fully
Suitable Working Voltage::DC5V/DC12V/DC24V
Exceeding the working voltage is forbidden
Valve Actuator gear
our A20 actuator gear is brass(biggest gear) + stainless steel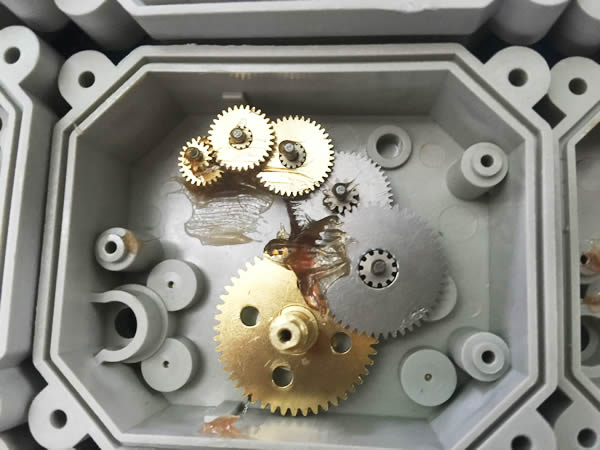 Our electronic components are basically imported, all choose the better quality of the accessories, such as switches, we use better quality Taiwan switch.
When you inquiry the valve, pls confirm the detail technical data :
1)valve size
2)material, brass or stainless steel or PVC?
3)working voltage
4)wiring diagram
5)thread BSP or NPT?
6)quantity?
7)cable length, 0.5m is OK for you?
Relative Products:
Chat on line
Skype On Line:
Mobile:+86-18957612187
Email:tonhe08@china-tonhe.com