Tonheflow motorized valve manufacturer
Tonhe mainly produces motorized shut off ball valve from 1/4" to 2",
Some valves approved NSF61-G, CE, ROHS and other international certification.
News and Technical
what's mini motorized valve
Mini motorized ball valve is a tiny electric valve, the actuator and the valve body integration design, greatly reduced the volume and shape is applied to a variety of restrictions on the size and volume have larger for the installation process.
Product features
Blue, gray, black, mini motorized valve actuator adds to the appearance of the product
The volume super small height is less than 120mm and weight 0.8kg
All-steel metal gear transmission (operating life far exceeds plastic gear), worm gear output, transmission structure is simple and reliable.
Self-locking (self-retaining valve bit) function.
The product supports multiple power supply (DC3-6V/AC/dc9-24v 220V) drive access.
Simple structure and reliable performance. Widely substitute various small-bore solenoid valve products.
It has great pressure difference, easy to block, and has the purging function of pipeline (valve core self-cleaning function)
Protection level: IP67
Application field with full open/closed output signal (NPN transistor set level current)
Air conditioning system, fire control system, water treatment system, pipeline purge, analysis instrument, smoke sampling, etc.
Product technical parameters
Technical parameters of technical indicators
Power supply voltage d3c-6v/AC/dc9-24v 220V
The mechanical stroke Angle is 0-90 degrees
Connect pipe threads (internal threads)
Action time 3-5 seconds
Rated current 200mA
Drive motor 4.6W
The protective device motor protects the thermistor mechanical limit block
Open display full open position feedback
Full open red (LED)
All closed green (LED)
The output signal is full open and closed output signal
(NPN transistor emitter common, collector current)
Contact capacity: DC50V, 20mA
Using the environment temperature: - 25 ~ + 55 ℃, humidity: 10-90% RH
Nominal diameter DN15/DN20/DN25/DN32
Nominal pressure PN1.0Mpa
Protection grade IP67
The installation direction is arbitrary Angle
Distribution cable 0. 3 x 6 core cable 30CM
Valve material SUS304 stainless steel
Sealed PTFE (PTFE)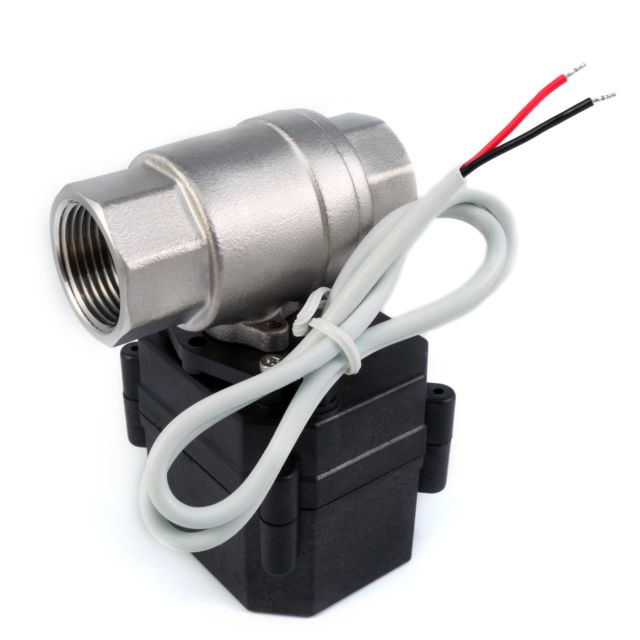 Taizhou Tonhe Flow Control Equipment Co.,Ltd
Add: Xincheng Road 1012, Huangyan, Taizhou, Zhejiang, China
Tel: 86-0576-81100233/84297288
Fax: 86-0576-81100232


Service On Line


URL: www.motorized-valve.com
www.tonheflow.com www.china-tonhe.com
Chat on line
Skype On Line:
Whatsapp:+86-13676642305
Email:tonhe08@china-tonhe.com