Tonheflow motorized valve manufacturer
Tonhe mainly produces motorized shut off ball valve from 1/4" to 2",
Some valves approved NSF61-G, CE, ROHS and other international certification.
News and Technical
A20 Actuator Proportional modulating motorized valve wiring
A20 Proportional Motorized Ball Valve modulating valve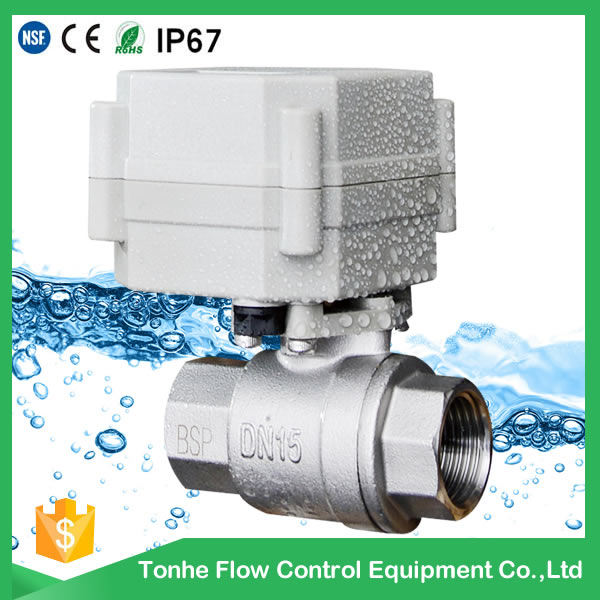 Technical Parameters:
Valve size
NPT/BSP 1/4" NPT/BSP 1/2" NPT/BSP 3/4" NPT/BSP 1" NPT/BSP 3/8" (Optional)
Maximum working pressure
1.0 MPa
Circulation medium
Fluid, air
Rated voltage
DC9-24v
control signal
4-20mA 、0-5V、0-10V
Position
Any position ( 0~100% is ok)
Make as your requirement, for example, 4 position, 5 position,etc.
Wiring control methods
5 wire control with feedback signal>

Locked-rotor Delay Time
2-4s
Working current
≤500MA
Open/close time
≤7S(Optional)
Life time
100000 times
Valve Body material
Brass, Nickel plated Brass, 304 Stainless steel, SS316(Optional)
Actuator material
Engineering Plastics
Sealing material
EPDM & PTFE
Actuator rotation
90°
Max. torque force
4Nm
Cable Length
0.5m,1.5m(Optional)
Environment temperature
-15℃~50℃
Liquid temperature
2℃~90℃




Indicator
Yes No (Optional)
Protection class
IP67
wire control Diagram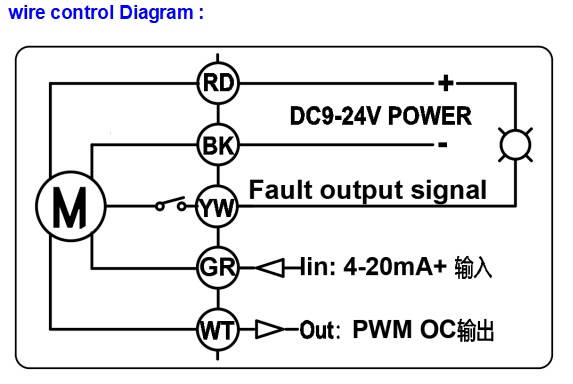 1, RD connect DC9-24V positive
2, BK connect DC9 ~ 24V-/ 4-20mA-/0-5V-/0-10V-
3 GR connect position input /control current +/ control voltage +(4-20mA, 0-5V, 0-10V)
4, YW connect ERR output ,OC output
5, WTconnectposition feedback ,OC output PWM signal

Current Control-------------------4-20mA
Voltage Control-------------------0-5v, 0-10v
Motor voltage-------------------5v
Control accuracy------------------- ±1%
Valve operate stages-------------------It should be able to control at 5% open , 10% open ....90% open and 100% open
Clients' questions about proportional valve
GR, green wire 4-20ma signal input.
YW, yellow wire, ERR signal output, when valve is blocked, multimeter, the current file can be measured.
WT, white wire, PWM signal, can be measured with oscilloscope.
Ask:Is the ERR Signal an 5V Level?
Or the same voltage as the rated voltage DC9-24V?
Anwser:
YW, yellow wire, wrong signal line, when it is blocked, multimeter, the current gear can be measured.
Using current gear(proper current gear), Not a voltage
What is Modulating valve 4-20ma 0-5v, 0-10v, PWM voltage of position frequency output?
When working voltage is:DC24v, Modulating valve 4-20ma 0-5v, 0-10v, PWM wire voltage Plus the voltage, usually 3v, 5v
Taizhou Tonhe Flow Control Equipment Co.,Ltd
Add: Xincheng Road 1012, Huangyan, Taizhou, Zhejiang, China
Tel: 86-0576-81100233/84297288
Fax: 86-0576-81100232


Service On Line


URL: www.motorized-valve.com
www.tonheflow.com www.china-tonhe.com
Chat on line
Skype On Line:
Mobile:+86-18957612187
Email:tonhe08@china-tonhe.com