Tonheflow motorized valve manufacturer
Tonhe mainly produces motorized shut off ball valve from 1/4" to 2",
Some valves approved NSF61-G, CE, ROHS and other international certification.
News and Technical
Motorized valve Wiring diagram CR2 02 normally closed normally open
CR2 02 normally closed/ normally open, it is our customer more often choose wiring diagram, because this type wiring is simple, easy to operate, only two wires, wiring the positive and negative extremely points, also can literally wiring, if choose high voltage AC110-240v, can directly receive our usual commonly used power 220 v, also need not transform the voltage, use rise very convenient.
It needs to be kindly reminded that
CR2 02 wiring diagram power failure is not spring return, it's power reset function. when power on, charge the Farah capacitors, when power off, use Farah capacitors' power to close the valve.
Motorized valve CR2 02 normally closed and normally open are two ways of wiring On the contrary, just according to the customer's requirements, when power off, need valve open or need valve close, if you need normally open, please tell us especially, we are generally offer normally closed function
CR2 02 Wiring Diagram ( 2 wires control – Power reset function)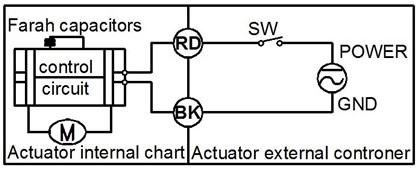 •When SW is CLOSED, the valve OPEN, the actuator automatically power off after in place.
•When SW is OPEN, the valve CLOSED, the actuator automatically power off after in place.
﹡Suitable Working Voltage: AC/DC9-35V,AC/DC110V-230V
﹡Exceeding the working voltage is forbidden
Please Note A20 CR2 02 must need charge time >10 seconds for every time use
If you want to know more about Tonheflow's CR2 02 normally closed wiring diagram. please contact below:
Taizhou Tonhe Flow Control Equipment Co.,Ltd
Add: Xincheng Road 1012, Huangyan, Taizhou, Zhejiang, China
Tel: 86-0576-81100233/84297288
Fax: 86-0576-81100232


Service On Line


URL: www.motorized-valve.com
www.tonheflow.com www.china-tonhe.com
Chat on line
Skype On Line:
Mobile:+86-18957612187
Email:tonhe08@china-tonhe.com